A PENGUIN STORY
Children's Books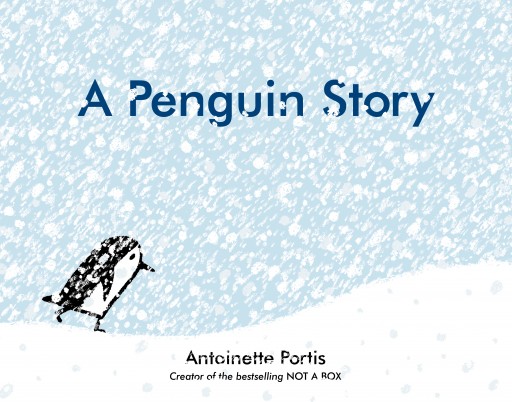 Author:
---
ISBN: 978-0061456886
Publisher: HarperCollins
Copyright Date: 2008
Price: $17.99
Description
Edna the penguin only knows the three colors that surround her: white ice, black night, and blue sea. She is convinced there is something more out there. So she sets out on a quest—a quest for color. When she finally finds what she's been looking for, it's everything she hoped for and more.
But that doesn't mean she will ever stop looking.
Notes
Awards:
A New York Times Best Illustrated Book of 2009
School Library Journal starred review
Junior Library Guild Selection
Parent & Child magazine's best books
Reviews
"Like the imaginative heroes of Portis's Not a Box (2007) and Not a Stick (2008, both HarperCollins), Edna yearns for something different. Though her fellow penguins are content to play and eat in their world of white snow, black night, and blue sea, she seeks something else. She finds it—a giant, bright orange research station, inhabited by orange-coated researchers. When she takes the other penguins there, they are suitably impressed, and one of the researchers even gives her a colorful glove. As the others go back to their normal lives, Edna stands atop an iceberg, wearing the orange glove like a hat, wondering "What else could there be?" This gentle tribute to dreamers crackles with quiet humor, and the art's limited palette both parallels the plot and lends the book a classic feel. Portis's ability to convey emotion and character through the slightest change in Edna's beady eyes and flippers is extraordinary, and the interplay of the text and pictures nears perfection. A delightful story, delightfully told."
SLJ; starred review
---
"Edna the penguin knows three colors—the black of night, the white in snow and ice, and the blue of the ocean that goes on forever. She knows there must be more, so Edna sets off on a quest to find it. She discovers a camp of Antarctic scientists that is a vision of bright orange (tents, plane, parkas, and so on). The story closes with Edna wearing a large glove left by the scientists as a headpiece and wondering, "What else could there be?" The double-page spread shows a small green boat approaching in the distance. Beautifully designed pages are filled with bold geometric shapes depicting the Antarctic landscapes and the few inhabitants. Uncluttered, stylized illustrations featuring a palate limited to the colors mentioned in the story perfectly catch the droll humor of the simple text."
Booklist