ASTRO THE STELLER SEA LION
Children's Books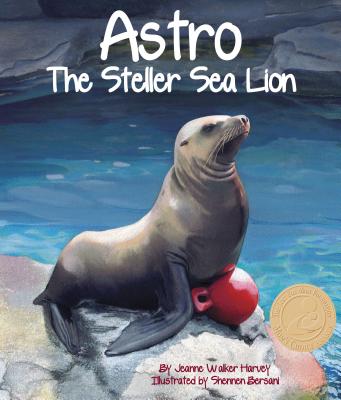 Author:
---
ISBN: 978-1607180760
Publisher: Arbordale Publishing
Copyright Date: 2010
Audience: Ages 4 and up
Cover Type: Hard Cover
Price: $16.95
Description
Astro is a stellar Steller sea lion! Only a few days old when found orphaned, he is cared for and raised at The Marine Mammal Center in Sausalito, California. When big enough to be released to the wild where he needs to be, he has other plans! Just like a lost dog finding his way home, Astro keeps swimming back towards the Center, crossing miles of open ocean water to do so. After several attempts, people realize that Astro is too accustomed to humans and will just keep coming back. Based on real events, readers follow Astro through some of the travels that have taken him across the U.S. to his current home at the Mystic Aquarium in Connecticut. The "For Creative Minds" educational section includes: Steller Sea Lions, Steller Sea Lions Threatened and Endangered, Where in the World? (A Map Activity), Steller Sea Lion Life Cycle, Sea Lion or Seal? (Whats the Same? Whats Different?).
Notes
Astro stars on NBC's "Today":
http://www.msnbc.msn.com/id/21134540/vp/24404212#24404212
Awards and Honors:
2011 Gold Mom's Choice Award
Reviews
While only a few days old, an orphaned Steller sea lion pup is rescued by California's Marine Mammal Center staff, who name him Astro. After much nurturing and care, Astro is healthy enough to return to the ocean, but because of his bonding with humans, he persistently returns to land, preferring people and populated settings to sea life. Ultimately, Astro finds a permanent and happy residence at Connecticut's Mystic Aquarium. Harvey's debut picture book is a fictionalized account of the real-life Astro's experiences, and the lively text, printed in a large, easy-to-read type, is filled with intriguing specifics: baby Astro is fed a whipped-cream-and-herring smoothie, for example. The photorealistic, mixed-media illustrations have a flat feel, but the characters' expressive faces bring some emotional depth. The extensive back matter includes Steller Sea Lion facts; a map-related activity; an anagram to remember events in a sea lion's life cycle; and the similarities and differences between sea lions and seals. A touching, informative introduction to the species. Grades 1-3.
Booklist