DELIA'S DULL DAY: AN INCREDIBLY BORING STORY
Children's Books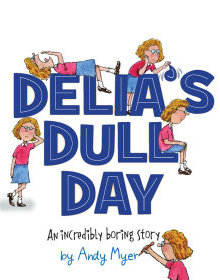 Author:
---
Illustrator:
ISBN: 978-1585368044
Publisher: Sleeping Bear Press
Copyright Date: 2012
Rights Retained: Dramatic, Commercial, Merchandising
Cover Type: Hard Cover
Price: $16.95
Pages: 32
Description
Reviews
An amusing visual riff on the frequent refrain "nothing ever happens to me."
Delia recounts the details of her incredibly dull yesterday. While her words describe a pedestrian day from breakfast to bedtime, the illustrations tell a completely different story. While Delia's eyes are either trained down on her cereal or a handheld device or looking straight ahead, lots of interesting things are happening around her. Delia complains, "NOTHING happened during my breakfast, except I spilled some milk." As she struggles with the milk, two elephants parade unseen down her hallway. Later, wildly shaped hot-air balloons float by while she checks her phone and waits for the bus. A pirate rides to school with her, and an astronaut floats by her math-class window while Delia doodles. The droll, first-person point of view carries the sarcastic, bored tone to its humorous extreme. The message could not be clearer: Look up and see the interesting world around you! This lesson is delivered in such a winning, funny package that it hardly seems like a lesson at all. Closer to Where's Waldo in their invitation to look closely than a pat lesson on awareness, these lively, cartoony illustrations offer many chortles per page and invite amused readers to return to find more "boring" details in Delia's life.
Young readers will chuckle at Delia's cluelessness—and maybe think twice about their own assumptions. (Picture book. 4-9)
STARRED PW REVIEW!