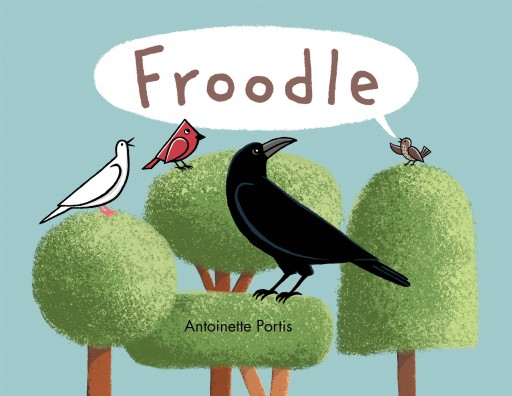 Author:
---
ISBN: 978-1596439221
Publisher: MACMILLAN/ROARING BROOK
Copyright Date: 2014
Price: $16.99
Description
It's caw
coo
chip
peep.
Day after day.
But what if
you're a little brown bird
that doesn't want to sing
the same old song?
In a normal neighborhood, on a typical day, the birds chirp, the dogs bark and the cats meow. When Little Brown Bird decides she doesn't want to sing the same old song, out comes a new tune that shakes up the neighborhood and changes things forever in this funny, innovative book that kids will love to read outloud.
What if you want to froodle?
Notes
http://us.macmillan.com/froodle/AntoinettePortis
http://mikelaprevost.wordpress.com
Jr. Library Guild Selection
Author/Illustrator of the May 6, 2014 picture book
First of four for Neal Porter–look for Wait (May 2015), Best Frints (May 2016), Now (May 2017)
Reviews
Boston Globe 9/08/14
New York Times Review Online 5/21/14
Wall Street Journal review 5/2/14
School Library Journal May 2014
Publishers Weekly 4/7/14
Kirkus Reviews, April 2014, STARRED REVIEW
Booklist review, May 15 2014
Milwaukee's Journal Sentinel Summer Reading Preview, 5/19/14
Seven Impossible Things Before Breakfast Author Q&A (forthcoming)
---
"Portis' fun story is filled with humor and silly rhyming words that both children and adults will appreciate."
School Library Journal
---
"The creator of A Penguin Story (2009) returns with another imaginative solution to monotony and predictability in the natural world… "The neighborhood was never the same," the narrator reports, and neither will be the charmed listeners and readers of this cheerful invitation to invention."
Kirkus Reviews, STARRED REVIEW
---
"Portis, whose Not a Box proposed alternative uses for a cardboard cube and whose A Penguin Story imagined how Antarctic birds regard non-wintry colors, delights in 'What if?' questions."
Publishers Weekly
---
"… a wonderful read-aloud, laugh-out-loud book."
Julie Shimada
Maria's Bookshop, Durango, CO
---
"I want to live in Antoinette Portis's world, where a stick is "Not a Stick,'' a box "Not a Box'' (to cite two award-winning titles), and where birds can suddenly change their calls from "peep" to "froodle sproodle." Portis has honed her skills, both in words and images, to the finest point. In "Froodle'' even the sharp black outline of a red bird gives character and meaning. Her pictures are clear and bright, her palette here the palette of a summer's day. At one point, when the birds have all begun to change their tune, the book flips sideways, changing our perspective, too. "Froodle'' is a light little gem of a book, a freeing book about finding your own voice. It's airy, witty, and frankly, perfect."
http://www.bostonglobe.com/arts/books/2014/08/09/for-children-capsule-reviews-three-recent-titles/7nFeEHZ2HPTK3fKREvSN3N/story.htmlA
Boston Globe
---
"Portis has a clever ear: She finds many little puns to keep the story light and witty. "We'll mind our peeps and coos!" one bird vows, while another laments, "Lost caws." Using pencil, charcoal and ink, with digitally applied color, Portis ("Not a Box") gives her illustrations a layered look, with contrasting expanses of flat color and more nuanced dappled and shaded areas describing trees, grass and shrubbery. In a few spreads she brings beautifully subtle coloration to her sunset skies. The animals, with the simple look of silk-screened figures, are heavily outlined in black, and appear superimposed on their backgrounds. These playful juxtapositions bring visual energy to the story, which is, after all, about delighting in difference."
NYT
---
"With its suburban setting and palette of pale blues and eau de nil, there's a subtle retro feel to this celebration of playful remarks."
http://online.wsj.com/news/articles/SB10001424052702304677904579533840810758168
WSJ
---
"Be preapared for "Oobly snooby!" and "Cloggen Zoggen Itsyboggen!" after the book is finished."
Publishers Weekly
---
"The big, bold speech balloons filled with irresistible nonsense words make this a great choice for shared read-alouds."
Booklist
---
"A goofily garrulous story session."
BCCB
---
5 of 5 stars
Utterly adorable …
Alethea A's review
Goodreads
---
5 of 5 stars
My new favorite picture book! In a neighborhood where every animal makes the noise they're "supposed" to, a little brown bird gets tired of the same old, same old, and decides to make a noise that's not her usual quiet "peep". You can imagine what happens next, but the depictions of rebellion, disagreement, peer pressure, and the ultimate gleeful resolution are deftly handled so the story is charming rather than didactic. The four main birds – little brown bird, white dove, red cardinal, and black crow – have very distinct personalities that children and adults will recognize in the human world. This would make a great read-aloud (especially with a reader who can do all the different voices, and has the ability to coo and sing a bit of scat) or even an elementary school class play. Alternately, it would make an excellent graduation gift for any creative person who should be encouraged to go off into the world embracing their own unique style.
Heather's review
Goodreads
---
To be honest, the illustration style did not attract my attention at first when opening the book. The intriguing mix of pencil, charcoal, ink and digital colour is unusual and provides an almost collage-like effect that seems cartoon-ish at first. But keep reading, and soon the genius of the illustrations reveals itself. In particular, the broad expanse of the sky backgrounds benefit, given this book's longer-than-usual trim size; Portis shows the passing of time in beautiful ombe gradients and lit-up/shadowed sides on hedges that move, signifying the transition from day to night and back.
In contrast, the birds are outlined and coloured in thick blocked lines, supporting the remarkable range of body language used to tell the story and the fascinating amount of expressions Portis is able to achieve simply by the shaping of the birds' eyes (à la Jon Klassen's This Is Not My Hat). The mannerisms of the birds go a long way toward developing the personalities of each, belying the fact that this is a picture book; Crow's flights are majestic, wingtips curled, while Cardinal's wings perk out at odd angles. Adding to these are the snippets of dialogue which litter each spread, short sentences that are sure to be fun to read aloud in different voices.
In fact, the text is just as strong as the art. An overarching narration typeset in a stick-straight sans serif font drops a sentence or two on each page to frame the story, while the dialogue of the birds propels the conflict along. (Little Brown Bird: "Tiffle biffle, just a little miffle!" Crow: "STOP! You are little and brown and you say PEEP!") Some spreads feature only dialogue, which works just as well as the spreads which contain only a single sentence of narration. And the climax of this picture book takes place over a series of four panels over a double spread, allowing the art to combine with the birds' dialogue to finally reveal whether crows, too, can be silly.
Eden's review
Goodreads