KINDERGARTEN DIARY
Children's Books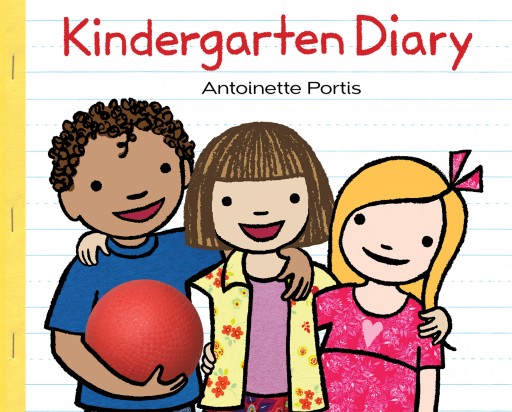 Author:
---
Publisher: HarperCollins
Copyright Date: 2010
Price: $14.99
Description
Starting kindergarten can be a little scary. But Annalina shows us there are lots of new and exciting things to look forward to—meeting your teacher, playing on the monkey bars, feeding the pet tortoise, and making new friends. Experience the ups and downs of the first days of kindergarten through Annalina's very own diary (as told to Antoinette Portis) and discover why the kids in room 2K are just fine!
Reviews
Imaginative, spirited Annalina narrates a month of days in her life, beginning with the day before she starts kindergarten. What makes this book special is that the author doesn't deliver a long list of Annalina's misgivings, which often give young readers extra fodder to stress about. This child simply says that she likes preschool and thinks Big School might be filled with Big Kids (What if they're mean?). The next thing readers see, there she is in room 2K, where a diverse group of children smile, wave, and look a little sleepy. Hardly anybody cried. In the following entries, the youngsters learn that the teacher isn't scary, that kindergarteners have their very own playground, that sharing is not only possible but also fun, and that nice things happen every day. The background for each page resembles the paper children use to practice their first writing white with widely spaced, light blue straight and dotted lines. Realistic and gorgeously patterned collage items outlined in black are mingled with simple paintings to create an explosion of color, shape, and texture. The narrative and illustrations are gently funny and filled with little details and jokes, enabling children to find something new with each reading. Kindergarten Diary holds its own amid an impressive assortment of cheery salves for pre-K nerves."
SLJ
---
"The author-illustrator behind Not a Box (2007) begins this book with another negative—I don't want to go to kindergarten! I only like preschool. But by the end of the story, which covers the month of September, Annalina, the narrator, has settled in, already thinking about first grade. Portis charmingly portrays both the fears Annalina has before starting school (mean and tall kids, a scary teacher with hair like Medusa's snakes) as well as the fun she didn't know would be there. Foremost are friends and their make-believe play on the monkey bars, but there's also writing lessons, show-and-tell, the class' pet tortoise, and her first taste of homework. Although many current kindergartners face more rigorous academic demands from the start, young readers will enjoy seeing elements of their day in Annalina's. Portis' illustrations are a fun mix of the cartoonish and realistic, including lined paper throughout the book and photographic images of certain objects. It's a welcoming world for children who are somewhere in between little kid and big kid."
Booklist