MAYA LIN: Artist Architect of Light and Lines
Children's Books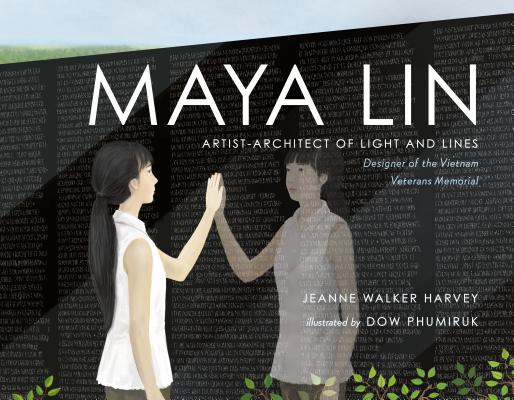 Author:
---
Illustrator:
ISBN: 978-1250112491
Publisher: Christy Ottaviano Books/Henry Holt & Company
Copyright Date: May 2, 2017
Rights Retained: Multimedia, Motion Picture & Television rights; game rights; dramatic rights; merchandising & Commercial rights, Chinese simplified character rights
Price: $17.99
Pages: 32
Description
The Vietnam Veterans Memorial in Washington, DC sees over 4 million visitors every year.  Celebrating its 35th anniversary in 2017, the wall's stark design provoked controversy and almost did not get built.  The monument's visionary designer is profiled in Maya Lin: Artist-Architect of Light and Lines by Jeanne Walker Harvey, illustrated by Dow Phumiruk (Christy Ottaviano/Holt; May 2, 2017).
As a child, Maya Lin loved to study the spaces around her.  She explored the forest in her backyard, observing woodland creatures, and used her house a model to build tiny towns out of paper and scraps.  The daughter of a clay artist and a poet, Maya grew up with art and learned to think with her hands as well as her mind.  From her first experiments with light and lines to the height of her success nationwide, this is the story of an inspiring American: the visionary artist-architect who designed the Vietnam Veterans Memorial.
Notes
A Junior Library Guild Selection; Scholastic Book Fair
A Bank Street Best Children's Book of the Year, 2018
Amazon Editor's Pick of the Month and an Amazon Best Book of the Month/Non-Fiction/June
NCIBA Long List
A NSTA Best STEM Book of the Year
A NCSS Notable Social Studies Trade Book for Young People
An NCIBA Book Award Nominee
A Junior Library Guild Selection
A Washington Post Book that Can Help Build Strong Girls and Boys for Today's World
A Chicago Public Library Best of the Best Book
An Evanston Public Library Best Book of the Year
An Texas Topaz List Selection
An Amazon Bet Book of the Year
A NERDY non-fiction picture book
also featured in Scholastic's WE NEED DIVERSE BOOKS flyer
MAYA LIN is part of Evanston Public Library's 101 GREAT BOOKS FOR KIDS list on Fuse8
Dow's illustration debut, a collaboration with E/W author Jeanne Walker Harvey is upcoming from Henry Holt.
Christy Ottaviano at Henry Holt's Christy Ottaviano Books has bought Maya Lin: Artist-Architect of Light and Lines, a picture book biography of Maya Lin, the artist-architect who designed the Vietnam War Memorial, written by Jeanne Walker Harvey and illustrated by Dow Phumiruk. The book is planned for spring 2017, to coincide with the 35th anniversary of the Vietnam War Memorial; Deborah Warren at East West Literary Brokered the deal for world rights.
SLJ has included Maya Lin in Elizabeth Bird's History Has Its Eyes on Her: Biographies of women are a hot trend in children's publishing. as one of the Magnificent picture books about women outside "the canon."
Trail-blazing Women in Picture Books
http://www.amightygirl.com/maya-lin-light-andlines?utm_source=newsletter&utm_medium=email&utm_campaign=20170512&ts=20170512
Picture Books About 99 Real-Life Mighty Girls & Women https://www.amightygirl.com/blog?p=14647&utm_source=Publishers+Weekly&utm_campaign=7d51c3e9cbEMAIL_CAMPAIGN_2017_10_12&utm_medium=email&utm_term=0_0bb2959cbb-7d51c3e9cb-304419529
https://www.amightygirl.com/blog?p=18637
Listen to a podcast interview of Jeanne Walker Harvey on History Author Channel:
http://historyauthor.com/2017/07/jeanne-walker-harvey-maya-lin/
MAYA LIN received a Star of the North nomination from the Minnesota Youth Reading Award (MYRA).
Reviews
"An artful resource for dreamers of all ages." –Booklist
---
"Quietly inspiring…The simple yet lyrical narrative flows effortlessly."-School Library Journal
---
"A fine celebration of a renowned woman artist." – Kirkus Reviews
---
Appropriately, the book's muted art has the fine lines, precision, and spatial astuteness of architectural drawings, and Phumiruk's use of perspective is often striking. A wide double-page spread of the finished memorial, for instance, impressively captures its length as the wall of fallen solders' names stretches diagonally toward the horizon. katrina hedeen – Horn Book (starred)
---
"Lin's story encourages the study of art, architecture, and engineering, making it an ideal choice to pair with STEAM-related activities." – SLJ
---
"The clean lines in Phumiruk's deliberately sparse, light-infused spreads and the placement of slender, pillarlike passages of text reinforce the breathtaking beauty of Lin's sleek landmark … this is an artful resource for dreamers of all ages." — Booklist
---
"Phumiruk's clean-lined, crisp illustrations … and light palette emphasize connections between Lin's concepts and the strong influences of nature on Lin's art … A fine celebration of a renowned woman artist."—Kirkus
---
"Textual and visual sparseness … echoes Lin's minimalist style…Phumiruk's muted artwork … makes good use of watercolor and corrugated textures to evoke the inspiration Lin drew from nature." – PW
---
"Phumiruk's digital illustrations feature soft, opaque colors that contrast brilliantly with the glossy black of the memorial images. Informative, important, and elegant."
http://www.slj.com/2017/03/collection-development/athletes-activists-and-other-amazing-women-womens-history-month/
---
Trail-blazing Women in Picture Books
---
"A handsome tribute … The story of how Maya defies their expectations will inspire readers of all ages. Dow Phumiruk's illustrations—precise and colorful, yet clean and unfussy—bring added appeal to this intriguing look at the life of a legend. – BookPage
http://bookpage.com/features/21293-enterprising-americanwomen?utm_source=newsletter&utm_medium=email&utm_content=History%20picture%20books%20text&utm _campaign=Gen%20Read%2005/10/17#.WSDEJOvyuiN
---
http://www.amightygirl.com/maya-lin-light-and-lines?utm_source=newsletter&utm_medium=email&utm_campaign=20170512&ts=20170512
---
75 Picture Books About Mighty Girls & Women
https://www.amightygirl.com/blog?p=14647&utm_source=Publishers+Weekly&utm_campaign=7d51c3e9cb-EMAIL_CAMPAIGN_2017_10_12&utm_medium=email&utm_term=0_0bb2959cbb-7d51c3e9cb-304419529
---
In its early pages, this quiet and contemplative picture-book biography sets up artist-architect Maya Lin's fascination with spaces, natural and human-made, and their dynamic relationship with phenomena such as light. The daughter of two Chinese-immigrant artists, a potter and a poet who "never told Maya what to be or how to think," Maya honed both her creativity and her intellect as a child. She went on to study architecture, a fusion of "art, science, and math," in college. During her senior year at Yale, Maya entered a national contest to design the Vietnam Veterans Memorial, inspired by its guideline that the design must blend with the park setting. That a twenty-one-year-old novice beat out 1,420 other candidates, many of them famous architects, is intrinsically captivating fodder for a picture book, and Lin's conviction about her own design in the face of public backlash is a built-in lesson in perseverance. Appropriately, the book's muted art has the fine lines, precision, and spatial astuteness of architectural drawings, and Phumiruk's use of perspective is often striking. A wide doublepage spread of the finished memorial, for instance, impressively captures its length as the wall of fallen solders' names stretches diagonally toward the horizon. Harvey's text makes thoughtful, relatable connections between Lin's work and the themes of her life; an author's note adds supplementary details on the memorial's design and touches on Lin's later work. – Horn Book (starred)
---
"Informative, important, and elegant."
http://www.slj.com/2017/03/collection-development/athletes-activists-and-other-amazingwomen-womens-history-month/
---