MY HANDS SING THE BLUES
Children's Books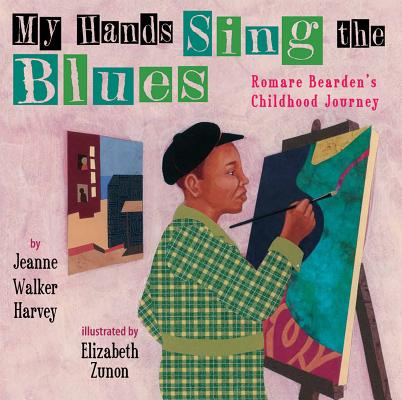 Author:
---
ISBN: 978-0761458104
Publisher: Amazon Children's Publishing
Copyright Date: 2011
Audience: Ages 6 and up
Cover Type: Hard Cover
Pages: 40
Description
As a young boy growing up in Charlotte, North Carolina, Romare Bearden listened to his great-grandmother's Cherokee stories and the whistles of trains steaming through town. When Romare's family, faced with unjust Jim Crow laws, decided to head north, tears stung Romare's eyes but he watched out the train window as the world whizzed by. Later he captured his childhood memories in a famous painting, Watching the Good Trains Go By. Using that painting as inspiration and creating a text influenced by the blues and jazz that Bearden loved, Jeanne Walker Harvey has created a story of Bearden's childhood. She describes the patchwork of daily Southern life that he saw from the train's window and the story of his arrival in shimmering New York City. Artists and critics today praise the collages for which Bearden became famous, collages filled with visual metaphors honoring his past, African American culture, and the human experience.
Notes
International Reading Association (IRA) Chrildren's and Young Adult's Book Award Winner – Primary Category
New York Public Library's Best Books to Read and Share – picture book category
Bank Street list of Best Children's Books of the Year – biography category
Gelett Beress Center for Creative Expression Gold
Medal for Picture Book Artist Biography
Moonbeam Children's Book Award – Tied for Gold for Picture Book All Ages