NOT A BOX
Children's Books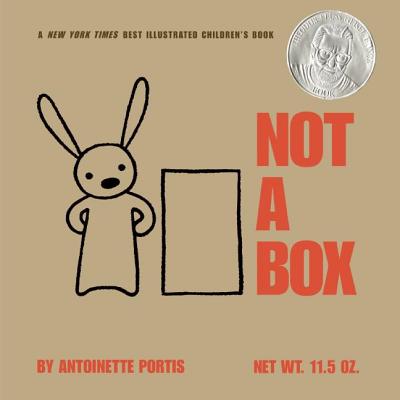 Author:
---
ISBN: 978-0061123221
Publisher: HarperCollins
Copyright Date: 2006
Price: $14.99
Description
A box is just a box . . . unless it's not a box. From mountain to rocket ship, a small rabbit shows that a box will go as far as the imagination allows.
Notes
Awards:
A Thoedor Seuss Geisel Honor Book
A New York Times Best Illustrated Book of 2007
An ALA Notable Children's Book
Named one of New York Public Library's 100 Titles for Reading & Sharing
New York Times Bestseller
Publishers Weekly Bestseller
Nick Jr. Family Magazine "Most Imaginative" picture book 2006
Reviews
"Dedicated 'to children everywhere sitting in cardboard boxes', this wonderful little book perfectly captures the amazing capacity of a child's imagination to create endless possibilities out of a humble box. Brilliantly illustrated with a cute bunny (bearing a passing homage to the graphic minimalism of Duck Bruna's Miffy), the box becomes all manner of wonderful things, from a rocketship to a hot-air balloon – anything but a plain old cardboard box. A super book that's as close to perfection as a picture book can get!"
Junior
---
"Simple and appealing… Nicely packaged in a cardboard cover, it looks like a kids' classic in the making."
Time Out
---
"A stylish paean to the imagination for two- to four-year-olds."
Financial Times Magazine
---
"A stylish paean to the imagination for two- to four-year-olds."
Financial Times Magazine
---
"This fashionably simple book has Rabbit encouraging young children to explore imaginary worlds whilst sitting in a cardboard box – on land or water or up into space. Great fun."
Carousel
---
"The adorable story of Rabbit and imaginative world within a simple cardboard box…"
Practical Parenting
---
Wrapped in basic, grocery-bag-brown paper, this streamlined book visualizes a child's imagined games.  "Why are you sitting in a box?" reads the opening page, opposite an image of a small rabbit, drawn in the simplest, unshaded lines, who appears next to a square.  "It's not a box," reads the text, presumably in the rabbit's defiant voice, on the next page, and equally simple red lines overlay the black lined rabbit and box to show a speeding roadster.  In the following spreads, the questioner (a clueless adult?) continues to ask about the rabbit's plans, while the little voice answers with the book's protest of a title.  This owes a large debt to Crockett Johnson's Harold and the Purple Crayon (1955). And as in Johnson's classic, the spare, streamlined design and the visual messages about imagination's power will easily draw young children, who will recognize their own flights of fantasy.
Gillian Engberg
Booklist