PICKLES, PLEASE!
Children's Books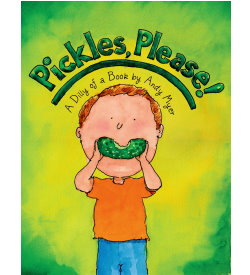 Author:
---
Illustrator:
ISBN: 978-0762440184
Publisher: Running Press Kids
Copyright Date: 2011
Price: $16.00
Description
If you ask a kid what their favorite snack is, most will say pizza, cupcakes, or ice cream. But not Alec Smart—he loves pickles! None of his friends at school understand his taste for pickled treats, nor do his parents. However, one day, just when Alec is pondering how lonely it is to be the only pickle enthusiast around, he comes across a pickle delivery truck and decides to jump in! What will happen when he arrives at the pickle factory? And who will he meet? The lesson learned in this humorous, pickle-filled adventure is that embracing your true colors brings with it special and tasty rewards!