PRINCESS SUPER KITTY
Children's Books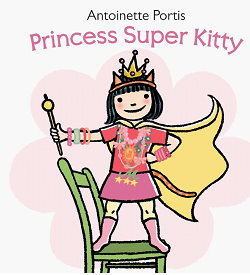 Author:
---
ISBN: 978-0061827259
Publisher: HarperCollins
Copyright Date: 2011
Price: $14.99
Description
Maggie likes being a kitty. But sometimes that's not enough. Sometimes a girl has to be super.
One little girl transforms herself over and over in this inventive picture book from the bestselling author and illustrator of Not a Box, Antoinette Portis. Once again, Portis shows us that children make ordinary life fun using their imaginations.
Reviews
"A fierce but delightful little tale"
Maurice Sendak